Our customer service is temporarily very busy, and we are focusing on online customer support. We will answer your message as soon as we can. Our phone service is for the time being open between 10am and 1pm during weekdays. Chat is operating as normal during weekdays between 8am and 10pm. You could also check if you can find an answer to your question from the Help Center. Thank you for your patience and have a pleasant day!
People who feel good, do good
Smartum offers fringe benefits for people who want to be and feel healthy and live their life to the fullest. We create multifaceted well-being for individual needs.
We believe that people who feel good and take care of themselves can do great things. Growth and success start from well-being. We want to enable those things for you, that support your individual well-being.
Help your employees to live their best life with our support
Individual well-being
With Smartum benefits you can support your employees in a meaningful way and help them prosper.
The widest well-being network
Smartum's fringe benefits can be used with multiple different payment methods in over 26 000 well-being venues.
Reliable partner
We are here for you. We are a Finnish family business and a reliable partner in well-being.
Save money with well-being
A Euro spent right in well-being at work will bring six euros back. (Finnish Institute of Occupational Health 2016).
Your employees deserve the best
– or even better
The well-being of your employees enables the well-being of your company. With Smartum, you can offer your employees refreshing Smartum benefits and help them feel and do good.
Put your employees first by supporting their well-being!
You can offer your employees exercise, exercise and culture, lunch, massage, and commute benefits. Support your employees' well-being with the benefits of your choice digitally or with paper vouchers.
Exercise & Culture Benefit
Exercise and culture benefit will give your employees the possibility to do whatever makes them happy. There are over 15 000 exercise and culture venues in our network.
Lunch Benefit
Encourage your employees to enjoy healthy lunch and ensure their stress-free lunch breaks. There are over 8000 lunch venues in our network. Join the frontier of employers supporting delicious lunch breaks!
Massage Benefits
Add some luxury to your employees' lives and support their working capacity with Smartum Massage Benefit. When the shoulders get stiff, the benefit can be used in over 1000 massage venues within our network.
Commute Benefit
Support your employees' everyday commuting by offering Smartum Commute Benefit. This is a economical and ecological way to commute by using SmartumPay app and in ticket sale venues.
Exercise Benefit
Exercise benefit is the way to refreshing moments of well-being. There are over 10 000 exercise venues in Smartum network, which means that there is something for everyone, whether the thing you enjoy the most is pole dancing, swimming or ball games.

Read more
Add your title here
Write your content here. Ut nec interdum magna, vitae volutpat quam. Vestibulum vestibulum, ligula ac feugiat efficitur, risus ex consectetur tortor, id laoreet arcu urna velites felis. Cras ut sem eget velit consectetur.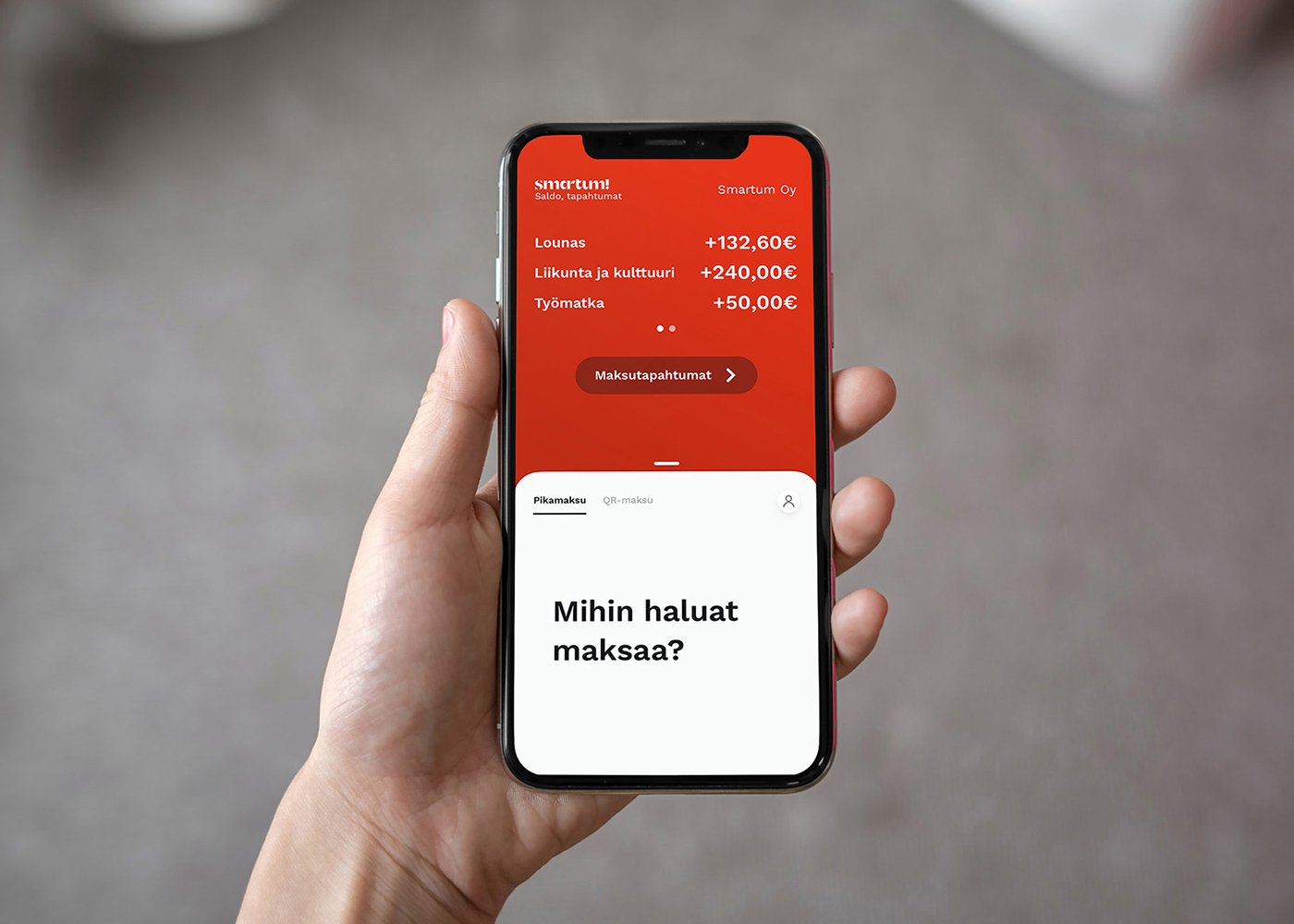 SmartumPay – the most effortless way to pay with fringe benefits
SmartumPay is a free of charge mobile app for electronic Smartum benefit users. SmartumPay will make paying effortless and makes your life easier.
In addition to easy payments, SmartumPay always keeps you updated on the amount and validity period of your benefits. SmartumPay is up for a free download in app stores.
Over 13 000 companies support their employees' well-being with us